Facebook represents a continually evolving marketing platform and communication channel especially given the recent news coverage and insights. According to a stats, Facebook holds around 26 Cr Indian profiles, out of which 30% are fake.
In the recent scenario, we have seen increase in the criminal activities, people in a bid to take revenge tried to ruin someone's life without any reason. They even tried to defame them on social platform by making their fake profile or snooping into their account etc.
But, the question is are we prepared for this? Do we really want to fight against cybercrimes?
Here comes the answer, with the Facebook related crime we have an option where we can block fake profiles who has been created by some anonymous who really want to harm us within 2 to 12 hours.
But, there are some steps we have to follow to block these fake profiles:
Steps to block the facebook fake profile:
Step 1: Open this link in browser https://en-gb.facebook.com/help/contact/295309487309948 (as shown in figure)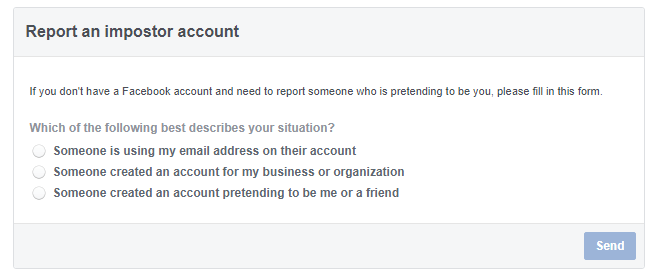 Step 2: Select option 3rd "Someone created an account pretending to be me or a friend" (as shown in figure)

Step 3: Select option 2nd "No" (If you have a facebook account still you have to select this option) (as shown in figure)

Step 4: Select option 1st " Yes, I am the person being impersonated " (as shown in figure)

Step 5: Fill this form (as shown in figure)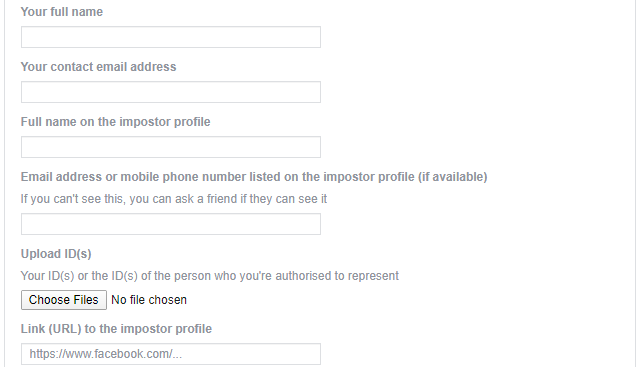 Your Full Name: (Enter the name of victim)
Your contact email address (Enter the email address of victim)
Full name on impostor profile (Full name mentioned on the fake profile)
Email address or mobile phone number listed on the impostor profile (Leave it blank)
Upload ID: (Upload front & bank of either Driving License or Adhar Card)
Step 6: Additional info (add any other information which you like to inform the facebook
Step 7: Click on send

Note 1: You will receive a receipt of the complaint from facebook within 1-2 mins. Facebook will confirm you on the email address mentioned above regarding deletion of facebook fake profile.
Note 2: If you are seeking for any legal action, dont fill this form. In that case you need to do the following things:
Copy the url of fake profile and save it in a doc file.
Take screenshot of fake profile or record a video of fake profile using your mobile phone.
Many times question has been asked: How to find URL of facebook profile
Step 1: Open facebook.com in google chrome or any other browser (do not use facebook mobile application)
Step 2: Visit or search the facebook profile, at the top of tab, you will able to view the URL of facebook profile (as shown in figure)

Must read: How investigators can extract the information of facebook fraudsters. Click here to view the post.